Walkways and Terrace Design in Laval, Montreal & West Island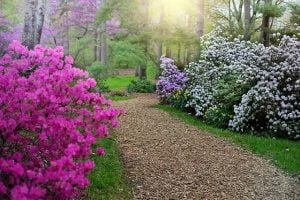 Having a walkway through your garden on your property can really feel like walking through heaven with the right layout. You will be pleased to show all your guests your garden through your walkway. It is a magical feeling to have a walk early morning through your garden.
We can suggest you a personalized terrace according to your property layout. Having the right layout can really compliment your home in such a way that it can increase the value of your home significantly!
Whether you want to use bricks, mulch, pebbles or any other type of material as your walkway, we can get it done. For your property design, we can accommodate according to your budget. There are vast possibilities in design, it could be as simple as garden edging or as complex as retaining walls. These walls are great for lots with slopes as they prevent down slope movement of the soil, provide water channel drainage and structural support. They are also great for aesthetic purposes too as they look amazing especially on front yards.
We will make sure your garden is incorporated nicely with your walkway so that your path and your plants do not look separate and instead look like they are blended together in a beautiful way. Backyard designs do not only depend on lot type but also on the personality of the owner, some prefer a zen garden, some prefer the sound of water and others just prefer a silent retreat. Let us know by calling or texting us at (514) 700-5348 or by filling up the form on the right on what type of design you would like to have and we will give you a free estimate for your property.
Like our Facebook page!
Receive a FREE quote for your property!