Landscaping, gardening and lawn mowing services Montreal, Laval & West Island
Do you want a lush green soft cut grass that you will love to sit and walk on,
a beautiful yard with lovely flowers or an amazing garden?
Then wait no further and contact us for your next landscaping service now!
Some of Our Popular Landscaping Services
We all love the smell of freshly cut grass and the sight of evenly cut field. The plants striving and the flowers blooming, this is what a good summer is all about. However, when we notice dead grass, weeds, dandelions and such, we immediately panic. This is where we come in to let you know that you and your family can continue enjoying your summer, your yard and your garden without stress as we are experts at lawn care.
Want your back/front yard to look like a walk in heaven? don't worry we got you covered with tree planting, flower bed maintenance, clean up, sod and mulch installation
We strive to provide regular on time delivery of lawn cutting services.
Have a patchy grass field or a dead spot in need of repair? No problem, we got regular fertilizing, aeration and seeding services.
Receive a FREE quote for your landscaping service
Lawn Mowing services in Montreal, Laval & West Island


Call or Text us Today for a FREE quote


(514) 700-5348
Lawn care can be time and resource draining but it does not have to be that way especially with specialized knowledge. This is why our lawn care experts are trained to not only mow your lawn but to also make sure it is maintained lush green throughout the summer. We have all the yard supplies so you don't need to have them, in fact we have a vast array of tools for various landscaping jobs. Not sure what you want to improve on your property? No problem, we can suggest you a custom landscaping design according to your property layout.

Having a messy lot area with unwanted plants and weed can take away the attention of your beautiful house, even if it's in your backyard because we all love to invite guests over especially during the summer so with an amazing looking backyard, your visitors will have a long lasting good impression. We will make sure that your garden compliments your home in a way that will make it uniquely alluring.

Let's face it, summer is short, especially in Quebec so not taking full advantage of the summer months would feel wrong. This is where we come in, we want you to be able to spend your precious time and resources to enjoy summer while we take care of your property needs. This way you get to feel like it's heaven in your backyard and smile every time you drive in to your driveway.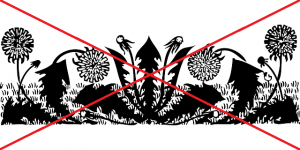 When we take charge of the maintenance of your terrace, we will make sure none of the bad guys (weeds, etc.) sabotage your lot. Even leaf litter can be eye catching so we will remove that for you too along with any trimming of bushes and trees. It can be worrisome to see weeds growing on your lot however keep in mind that weeds can proliferate from far away so you could have a nice clean field of grass and then the next day have weeds growing. It is normal, even some low quality grass seeds may contain weed spores. There are many ways to combat this, one of the ways is to use herbicides but that might not be great for the health of your pets, nature, your family and yourself so by having us taking care of your lawn regularly, we will make sure these guys do not spring up to cause discomfort to the eye. Everyone deserves a nice clean grass field so that people can play bare feet without concerns of uneasiness.
The usage of pesticides is at your discretion, we do not need to use them but they are very effective nonetheless. There are good alternatives to them as well and we are more than happy to utilize those options too. The unwanted weeds between the tiles are no match for us as we have developed efficient ways of dealing with them so that they do not spring back up again. Our lawn care specialists have the knowledge and experience necessary to deal with any kind of unwanted plants. This is our commitment to you.
When plants are strategically placed, it can really rejuvenate the surrounding area along with proper walkways and interlocking bricks that give an orderly look. Rock gardens may also be used next to ponds for an extra modernized zen look. Retaining walls can also be used for beauty but also serve to direct the flow of draining water. The possibilities of beautifying a landscape are vast and big.
We want to make sure you return to us for your lawn needs every year so customer satisfaction is very important to us. We want to make sure all your needs are met so you can have your property look clean and orderly just like the picture to the right. The leaves are picked up, the shrubs and the trees are trimmed, the weed growing between your tiles are eradicated, your grass is mowed, soil is aerated, plants are fertilized and irrigated so that your garden looks magnificent.
We also serve commercial properties with the same lot services as residential but on a more bigger scale. We will make sure your storefront looks amazing so that you attract more clients with a long lasting impression that will greenly welcome them into your store. So call us today or fill out your needs on this form for a FREE estimate.
Like us on Facebook!